Build a Profitable

LinkedIn Presence

.
Create a strategy and tactical plan to generate leads from LinkedIn.
Get started on LinkedIn
the RIGHT way

.
"Just get started."
Every LinkedIn influencer and coach touts this as the end-all, be-all for creating a presence on the platform.
While that advice has helped some people overcome their struggle with analysis paralysis, it often leaves them struggling to figure out how to generate leads with their content.
I should know. I've worked with over 100 CEO's, founders, and solopreneurs who took the "just get started" advice…and wasted 6 months to a year without seeing any financial results.
Stop trying to just wing your LinkedIn presence. There is a better way.
Build Your Linkedin Brand.
We compiled the exercises and framework we use to craft profitable LinkedIn strategies for our clients and turned them into a do-it-yourself workbook.
One hour, some simple exercises, and years' worth of best practices and platform know-how all at your fingertips.
The result?
A massive increase in clarity, focus, and direction that generates up to a 60% increase in revenue!

SHFT's content strategies have not only proven to bring me higher engagement but to also convert them to paying customers. My engagement went up 15% and I see recurring revenue even after posting. I convert ~2 sales per post bringing in anywhere from $40-$200. If converting clients with your content is your problem, SHFT is your answer.
Antoni Tzavelas, Training Architect And Agile Coach At Antonit Training

Shortly after working with SHFT, I started to receive new inbound requests to work with me and I have converted more than 50% of them into buying clients. The only regret I have in the whole process is not working with the SHFT team sooner.
Ryan James Miller, Sales Development Coach at Be Authentic Coaching
SHFT gave me a strategy – the content to create and the people to engage with on LinkedIn – and since then I've seen a dramatic increase in conversations and engagement for my niche.
Matthew Holman, Head of Growth at QPilot
I now have a value proposition for my brand that is entirely unique to me and shows exactly why my ideal customers should choose me. Just one week down the line I got an InMail from my exact ideal customer saying how much they love my value prop.
Matt Barker, Freelance Copywriter
Jason gave me steps moving forward that will change how I use LinkedIn for the rest of my life. This session is a must if you are producing content on LinkedIn.
Dominic Imwalle, Founder at DxConsultingVoted #6 Top Job Search Expert to Follow on Linkedin for 2022
I came to the consultation with SHFT feeling frustrated with the right approach to growing a client's LinkedIn corporate page. After an hour and a half, I was given content ideas and formats to help my efforts. The Slack channel provided ongoing feedback on the posts I wrote. Their direction and guidance helped immensely.
Cyndi Rude, Owner at MWA Solutions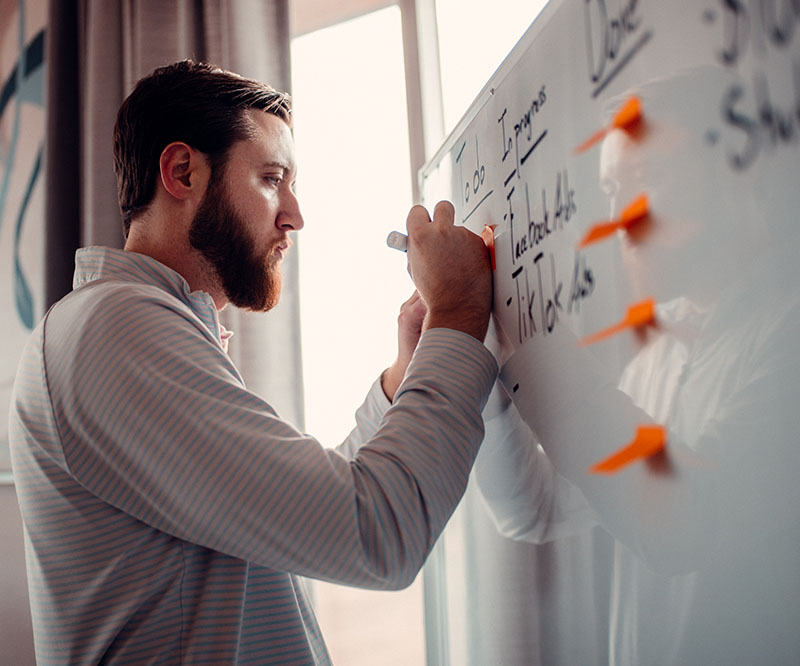 Module 1
Your LinkedIn Strategy
Create a strategy to guide your LinkedIn efforts.
LinkedIn goals
Ideal audience
One-thing focus
Pillar content
Strategy statement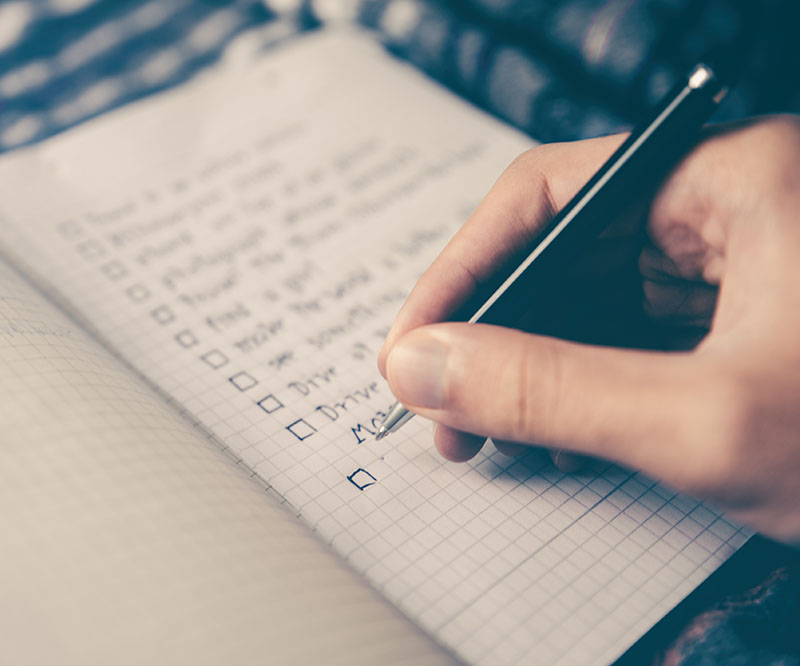 Module 2
Your Tactical Plan
Use your strategy to make tactical decisions about your content.
Content ideas
Posting schedule
Content structures
Content types
Module 3
Your Engagement Strategy
Engage with the RIGHT people to generate leads.
Whom to engage with
How to engage
When to engage
Your engagement process
Module 4
LinkedIn Best Practices
Advice that boosts your posts in the algorithm.
Content design
Hashtags
Tagging others
Generating leads and revenue from LinkedIn requires more than selfies and random posts.
You need a content strategy and tactical plan to attract the right people.
Our guide helps you do that.
You'll create a strategy and tactical plan to help you get started the right way on LinkedIn.
The best part? You'll shorten the time it takes to see real revenue from your efforts.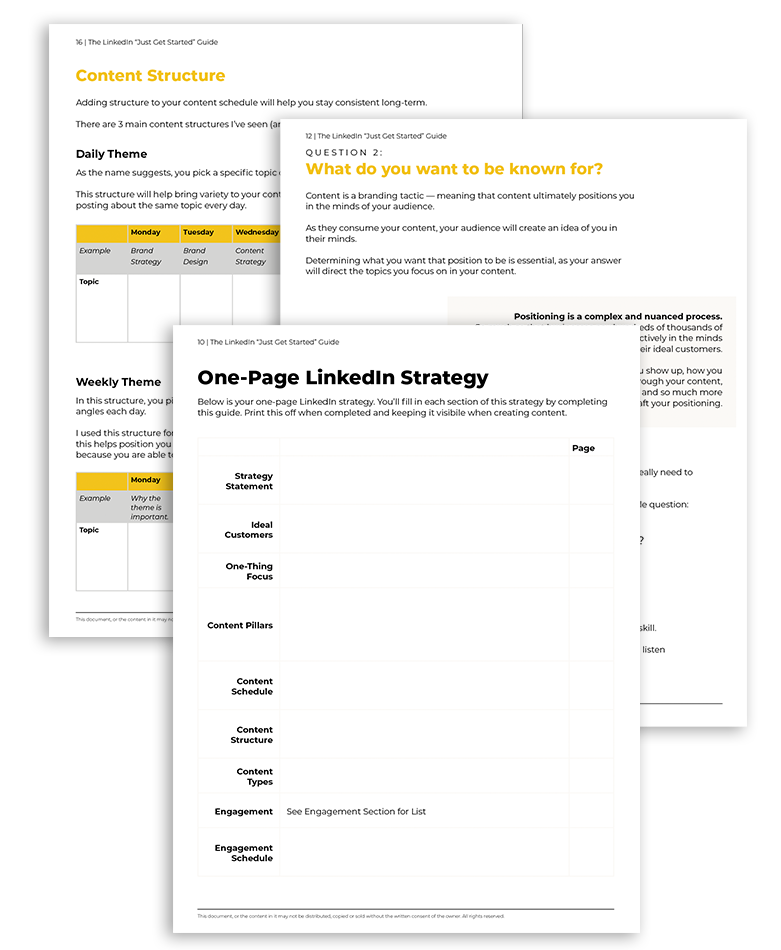 I am a brand and content strategist, entrepreneur, and founder of SHFT. Before social media even existed, I was creating content that drove revenue and positioned brands as the premium choice in their industry. Fast forward 20 years and my strategies have turned previously unknown businesses into worldwide, category-dominating brands. When I'm not leading the team at SHFT, I can be found hiking, traveling, brushing up on my Czech language skills, or ripping apart bad sales and marketing tactics as #sassyjason.
Workbook Only
The full workbook (75+ pages) including:

Education and lessons on content strategy

Exercises, frameworks, and templates used by successful creators

Tools to help you generate content ideas

One-Page LinkedIn Strategy

Extensive tactical plan to implement your strategy
Workbook + 1 Consultation
The full workbook + …

A 1.5-hour consultation with our brand and content strategist (Jason Vana) to take your strategy and tactical plan to the next level.
The LinkedIn Just Get Started Guide is a perfect workbook for executive, founders, solopreneurs, freelancers, bootstrappers, and side-hustlers looking to generate leads and revenue with their content on LinkedIn:
SaaS & Service Founders
C-Suite Executives
Copywriters
SEO
Graphic Designers
Website Designers
Social Media Managers
Content Creators
Accountants
Financial Planners
Fitness/Health Coaches
Business Consultants
Life Coaches
Recruiters
And More!
Generate leads and revenue from your LinkedIn Content.